---
---
Contact
Lehrstuhl für Produktion und Logistik
phone: (0345) 55-23425
fax: (0345) 55-27198
ute.lorenz@wiwi.uni-halle.de
Große Steinstraße 73
06108 Halle (Saale)
postal address:
Lehrstuhl für Produktion und Logistik
06099 Halle (Saale)
---
---
Login for editors
---
Chair of Production and Logistics
Welcome!

News
Conference: Logistics Management 2019

The Martin Luther University and the Merseburg University are organizing the conference "Logistics Management 2019" in the next year. We are pleased to invite interested participants.
We are hiring tutors and student assistants
The chair of "Produciton & Logistics" is looking for tutors for "Production & Logistics"and student assistants for the winter term 2018/2019.
Tutors should have passed the course "Produciton & Logistics". Contracts are made for approximately 3 month with 30 hours per month.
A student assistant is hired for a research project with 24 working hours per month.
If you are interested, please send a short application consisting of a short motivation letter, cv, and your current transcript of records to ute.lorenz@wiwi.uni-halle.de.
Veranstaltung "Aspekte der BWL IV" im WS 18/19
Auch im kommenden Wintersemester 2018/19 wird vom Lehrstuhl wieder die Veranstaltung "Aspekte der BWL IV". Im Rahmen der Lehrveranstaltung werden Teams aus 4 StudentInnen zwei Unternehmensplanspiele spielen: Das "Beergame" (https://beergame.masystem.se/ ) und "The Fresh Connection" (https://www.thefreshconnection.biz/ ).
Als Leistungsnachweis wird am Ende der Veranstaltung von jeder Gruppe ein Abschlussbericht verfasst.
Bei Interesse, tragen Sie sich einfach im Stud.IP in die Lehrveranstaltung ein. Details werden zur Auftaktveranstaltung bekanntgegeben. Für nähere Informationen kontaktieren Sie Thomas Kirschstein.
Homepage traffic analysis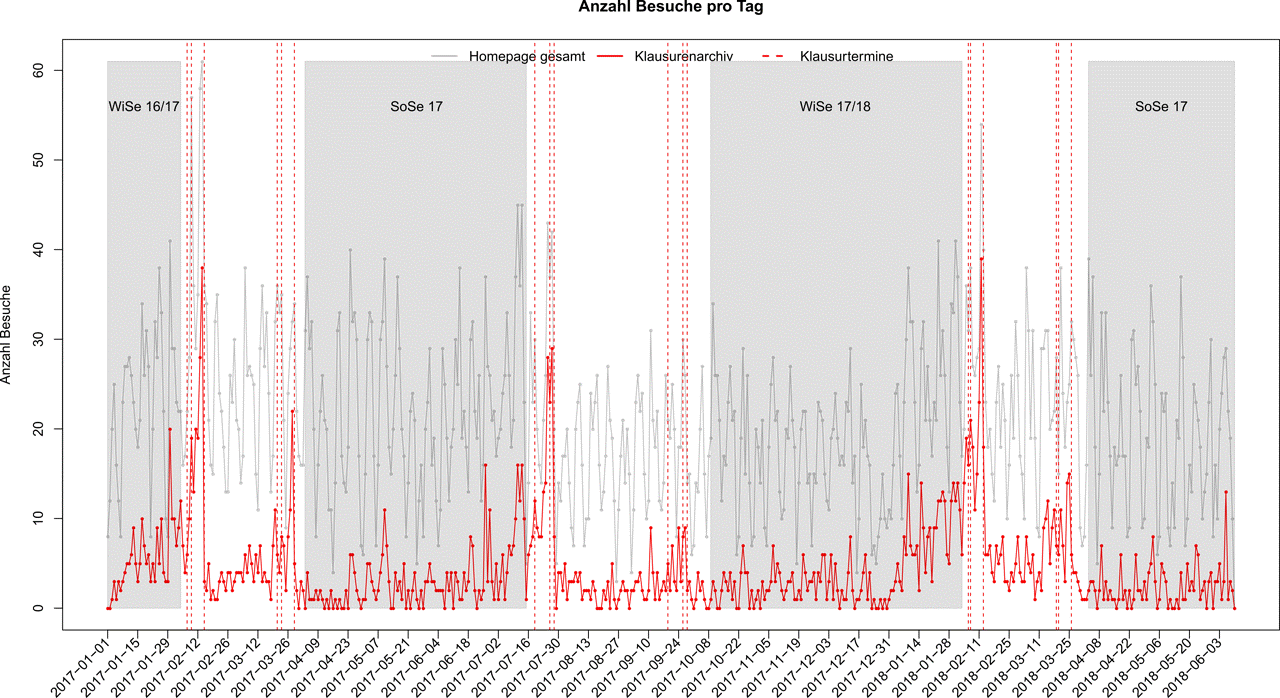 Number of all visits of the chair's homepage and visits of the exam archive
Obige Graphik zeigt die Anzahl aller Besuche auf der Lehrstuhl-Homepage vom 1.1.2017 bis zum 9.6.2018. Zusätzlich sind die Besuche auf der Unterseite "Klausurarchiv" verzeichnet.Grau unterlegt sind die Vorlesungszeiten der jeweiligen Semester.
Neben einem relativ gleichmäßigen Muster aller Besuche auf der Homepage, fällt auf, dass das Klausurarchiv ab ca. einem Monat vor den Klausuren häufiger besucht wird (im Vergleich zum Rest des Semsters). Auffällig ist auch, dass am Tag vor Klausuren gehäuft Besuchsspitzen des Klausurarchivs auftreten (gut ersichtlich in Wintersemestern mit großen Bachelorveranstaltungen). Dieses Muster ist auch zu den zweiten Klausurterminen zu erkennen (wenn auch in abgeschwächter Form).
Jobs and Internship offers
Registration for seminar (master courses) in Production & Logistics
The chair for Production & Logistics offers seminars for master students regularly. Mostly, topics from production and logistics management are covered. If you are interested please send a mail to ute.lorenz@wiwi.uni-halle.de with the follwoing information:
name and surname
matriculation number
programm enrolled
attended courses of the chair
Excursions
Logistics Masers (student competition)
http://www.logistik-masters.de/
---
---